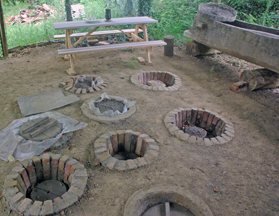 by Kathy Sullivan
05.11.2013.Over the years, Simon Chkheidze in Meore, Imereti, Georgia has sought to produce quality wines before making them available to the public. He expects to bottle his first wines from the 2014 vintage. Simon is focused on producing and exporting quality wines made with the Otskhanuri Sapere grape.
After walking to the vineyards, we enjoyed tasting an Otskhanuri Sapere wine that winemaker and owner Simon Chkheidze produced. The wine tasting was at a long wood table near several qvevri buried in the soil. Nearby sits a large 150-year-old wood press.
Simon Chkheidze has a small family vineyard winery in the village of Meore, Imereti. Although he has not yet started to bottle his wines as he seeks better quality, we enjoyed the wine we tasted and believe they are likely to become well known. Simon expects to reach his goal of bottling a quality Otskhanuri Sapere wine beginning with the 2014 vintage. Eventually he would like to produce 40,000 bottles. Wine enthusiasts will want to check out this wine when it becomes available on the international market.
Vineyards
The 3.5 hectares (8.6 acres) of vineyards close to Simon's
marani
are 30 years old. Grape varieties include Tsitska, Tsolikouri (pictured), Krakhuna and Otskhanuri Sapere. The Otskhanuri Sapere grapes are special for him. He believes that the Otskhanuri Sapere variety is unique and relatively unknown but produces a wonderful wine.
Winemaking
Simon is primarily interested in producing straight varietal wines. The
marani
has ten
qvevri
. For producing red wines, after harvest, Simon destems the grapes and adds the juice from the grapes with 50 percent
chacha
(pomace) into a
qvevri
. After fermentation he racks the wine into another
qvevri
without the
chacha
. The red wines are aged in
qvevri
for one year. For white wines, Simon harvests the grapes, destems and adds only the juice to a
qvevri
. Terry asked if there was ever a problem with the white wine production not having enough native yeast to ferment since the juice was not fermented with skins. Simon's response was that he has never had a problem.
Wines
With the wine tasting, Simon provided a
phelamushi
cection. This was the consistency of a pudding and tasty.
Phelamushi
is made with grape juice and corn flour and is cooked down to a consistency-like pudding.
The Otskhanuri Sapere 2012 was a black color with a purple rim. The aroma was of black fruit. The taste reminds one of black cherries, blackberries, and cassis. The finish was crisp and fruity with bold tannins.
Simon has decided to increase production in order to bottle and export his wines. He noted that the Otskhanuri Sapere is a special grape variety and Georgian winemakers export little of it. Producers are just beginning to learn the potential of the grape. Simon discovered the Otskhanuri Sapere vine, native to Imereti, a few years ago and decided to plant it.
When planning a visit to Simon Chkheidze, be sure to contact Simon for an appointment. Look for Simon Chkheidze's wines to come on the market in 2015.
Source