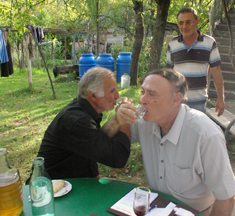 by Kathy Sullivan
07.11.2013. Engusi Natberadze is a delightful, friendly winemaker from a family who has been making wine for generations. Engusi is proud of his wines and
chacha
.
Engusi Natberadze has seen the development of wine in Georgia over many years. Noting that his father and grandfather made wine here, Engusi said that his family has been making wine beyond the fourth or fifth generations. Today his vineyard is home to grapevines more than 100 years old. Some of his
qvevri
are 200 years old. Asked if he ever recoated the inside of the qvevri with beeswax, he said that even the oldest qvevri had never been recoated.
Vineyards
The white grapevines in the vineyard include Tsolikouri, Mtsvane and Kudurauli. Red varieties are Aleksandrouli, Mujuretuli, Dzelshavi, Aladasturi, Kapistoni and Otskhanuri Sapere.
Winemaking
Engusi NatberadzeThe marani (wine cellar) is small with qvevri buried in the ground. A cement floor covered the ground surface above the qvevri. Each qvevri had a black mat over the opening to the qvevri. To produce both red and white wines in qvevris, Engusi presses the grapes and adds the juice to the qvevri. He does not use the stems or the chacha (pomace.) When asked if there was enough natural yeast for fermentation without the skins, he noted that there was enough yeast. After fermenting the grapes for two weeks, the qvevris are sealed. In March, Engusi opens the qvevris and racks the wines to another qvevri.
Wines
While visiting with Engusi we tasted several of his wines in his yard at a green outdoor table. The wines were enjoyed with Engusi's delicious homemade Georgian cheese and Georgian bread.
The first wine we tasted was the White 2012, a blend of Tsolikouri, Mtsvane Ratchuli and Kudurauli. The color was a dark yellow. The aroma and taste had floral hints reminding one of a bouquet of flowers. The wine had a crisp finish with floral notes and a touch of citrus. The wine had a long aftertaste.
The red wine was a blend of Aleksandrouli, Mujurentuli, Dzelshavi, Aladasturi, Kapistoni and Otskhanuri Sapere. The color was a dark red, with an aroma of floral notes. The taste was reminiscent of floral, cherries and black fruits. The crisp finish offered floral and fruit hints. If you don't like tannins, try this wine. This is a red wine for white wine lovers.
Chacha
In a sign of friendship and good will, Engusi and Terry with arms together tossed back a small shot of the
chacha
. Engusi's chacha
offered hints of alcohol with a hint of sweetness (from the alcohol.) The grapes express themselves as floral and dried fruits. The chacha had a long aftertaste of dried fruits.
Exporting
Eventually Engusi plans to export his wines. At the current time he is focused on improving the quality f his wines. However while talking with him he noted that I don't sell because I don't know what is better than this."
Source