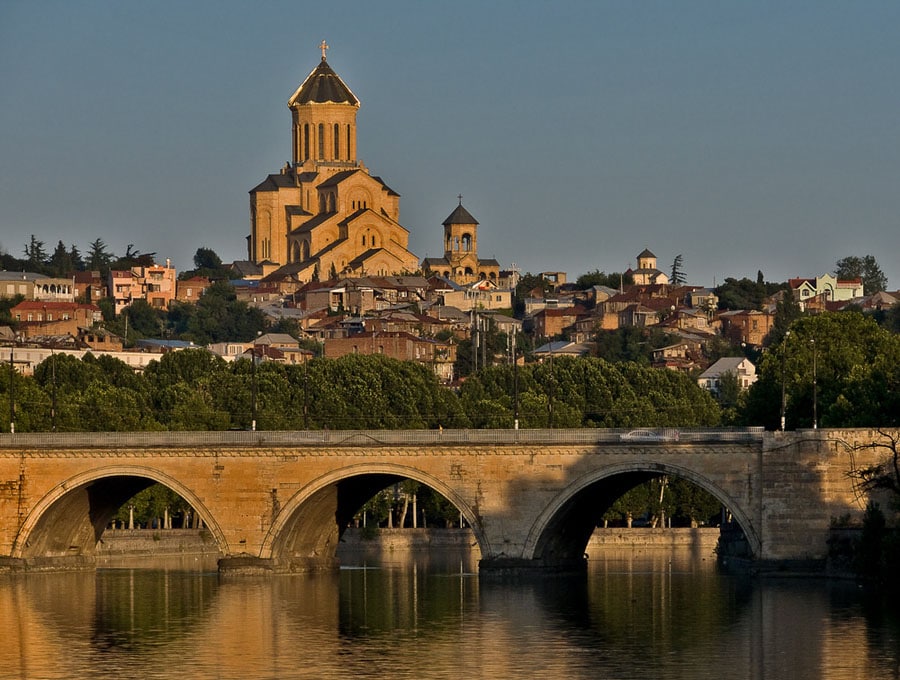 12.09.2013. On Monday, we arrived in Tbilisi, Georgia at 4am. A driver met us at the airport and transported us to the Radisson Hotel. Quickly falling asleep we awoke for breakfast at 9am. Our first winery in Georgia was Tbilivino followed by Bagrationi 1882.
The breakfast at the Radisson was great. The buffet and had a large choice of fruits, meats, fish, cereals and breads.
Later on the way to the wineries, I noticed that while the traffic was lighter than in some major world cities, they seemed to have a mind of their own in terms of merging with traffic and lane changing. At times it seemed like an intricate dance of cars. I was glad we had a great driver who knew the local traffic customs.
Our first winery we visited was Tbilivino where we needed to go through strong security to gain entrance to the parking area. We were met at the door of the facility where we began our tour just inside in large room with marble floors. We viewed the modern winemaking technology used to produce the wines followed by the tank room and barrel rooms. We went to a room on the second floor where we enjoyed tasting five wines including two that were made using the traditional
qvevri
. After we left Tbilivino it was not long before we arrived at our next winery Bagrationi 1882.
Bagrationi 1882 is wonderful especially for anyone who enjoys sparkling wines and Champagne. This winery produces mostly sparkling wines. Again the security at Bagrationi 1882 was strong. After securing permission, a large solid gate rolled back to allow entrance to the parking area. We were quickly greeted and entered the large facility. The entry way is large with stairways on both sides carpeted in red that curve up to the second floor. We visited the bottling line, sparkling winemaking room and the tank room. We then tasted six sparkling wines in a smaller room lined with cubes filled with different sparkling wine bottles.
Soon our driver escorted us to the old area of Tbilisi where buildings are closer together and there are an array of shops, restaurants and cafes. Lunch was sumptuous as a variety of Georgian foods began to quickly arrive and filled the table to over flowing. Tourists will enjoy wandering through this area.
Source