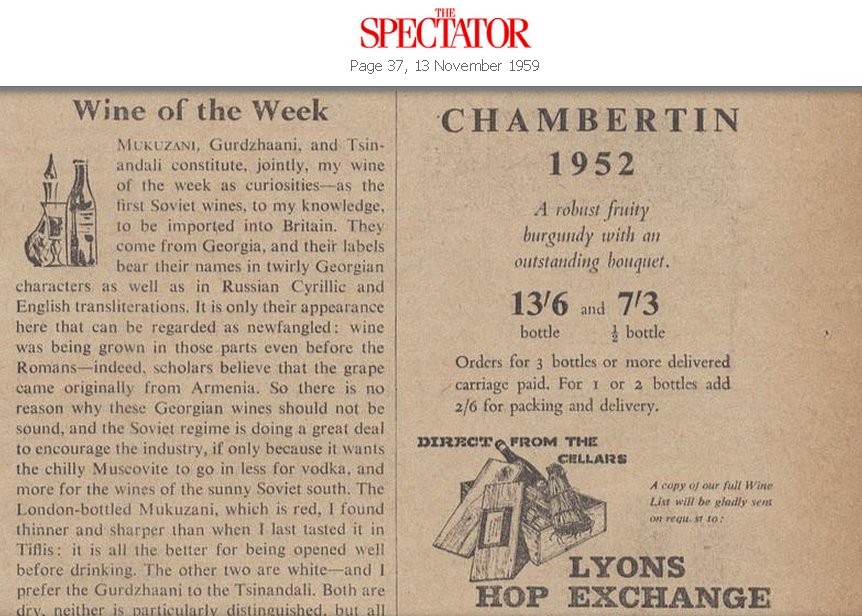 'Wine of the Week', The SPECTATOR, 13th November 1959.
23.06.2013. Another nose in
the Spectator
digital archives, and this time it a 'Wine of the Week' from November 1959. History is a fantastic pursuit because it is always unveiling those
plus ça change, plus c'est la même chose
moments, the ones that make you wonder whether we're all just going round in circles.
Before we get on to the main topic, however, have a look at the adjacent advertisement for "robust fruity burgundy with an outstanding bouquet". Spectator readers could avail themselves of fine Gevrey Chambertin for a mere 13 pounds and 6 shillings per bottle; what's more, you only needed to order three bottles for free delivery. Apparently 1952 was a bit of a stonker of a vintage too. Bargain? Well, 13'6 in today's money is approximately twelve pounds...
Back to the wine of the week, and the correspondent has picked a pair of "curiosities" from Georgia:
Mukuzani, Gurdzhaani, and Tsinandali constitute, jointly, my wine of the week as curiosities—as the first Soviet wines, to my knowledge, to be imported into Britain. They come from Georgia, and their labels bear. their names in twirly Georgian characters as well as in Russian Cyrillic and English transliterations. It is only their appearance here that can be regarded as newfangled: wine was being grown in those parts even before the Romans—indeed, scholars believe that the grape came originally from Armenia. So there is no reason why these Georgian wines should not be sound, and the Soviet regime is doing a great deal to encourage the industry, if only because it wants the chilly Muscovite to go in less for vodka, and more for the wines of the sunny Soviet south.
The London-bottled Mukuzani, which is red, I found thinner and sharper than when I last tasted it in Tiflis: it is all the better for being opened Well before drinking. The other two are White—and I prefer the Gurdzhaani to the Tsinandali. Both are dry, neither is particularly distinguished, but all three are worth trying, for interest's sake, and are not too expensive at about 8s. a bottle at Whiteley's wine department, the Curzon Wine Co., Ward and Martinez of Brewer Street, and other London wine merchants.
What is interesting to our twenty-first century squirrel ears is not that wine writers were recommending Georgian wines in the 1950s; it is that wine writers are still recommending Georgian wines as something "newfangled" in the 2010s.
We love Georgian wines. They're an acquired taste, that's for certain (Jamie Goode calls those of Pheasant's Tears winery "unusual but lovely", for instance); but they are about as red squirrel-ish as wines come, made as they are in ancient fashions and from rare, indigenous grapes like white grapes Rkatsiteli, Mtsvane and Chinuri, or red grapes Saperavi (such as
the Spectator's
'Mukuzani' wines) and Shavkapito. The
qvevri
method of viticulture and often lengthy skin contact can produce wines unlike any other, what Decanter columnist Andrew Jefford termed "the missing sixth" wine genre.
Sarah Abbott MW writes, "it is fair to say that Georgia is under-appreciated by western European wine lovers." This is less to do with quality (though their bold styles are challenging), and more to do with Russians having nigh-on monopolised Georgian wine exports throughout the past century. It was not until the Russians banned imports of Georgian wine in 2006 (now lifted) that producers, out of necessity, looked further afield and to the markets of western Europe. Even today, says Sarah, the chief markets remain eastern: Belarus, Poland, China, Kazakhstan and the Ukraine.
So Georgia's wines are still "curiosities" to British drinkers, and given their rarity and renewed emphasis on quality over quantity they tend to cost a bit more than the eight shillings (roughly £7) of yesteryear. However, much as they said back in 1959, Georgia's wines are worth trying, and these days not merely for interest's sake.
Source