by Ye Jun
Tucked in the Caucasus is an ancient tradition of wine making. Ye Jun sips across the sweet spots of Georgia.
Georgia is a country where humans first discovered the art of winemaking. One of the historic cradles of wine in the world, the country is revitalizing its viticulture and other traditions. A team of six journalists was invited by the Georgian Wine Agency recently to visit the vineyard regions of the country. At the airport, we are surprised and pleased to receive a small bottle of wine in a box that was labeled: "Welcome to the land of 8,000 vintages." The back of the box says the winemaking tradition of Georgia has "passed through generations for over 8,000 years".
Coming from a country with a 5,000-year-old civilization, we Chinese journalists are curious.
The Georgian National Museum displays a big clay wine jar from the 4th century BC excavated in the city of Mtskheta, in which people found remains of wine grapes.
Archaeologists trace the history of Georgian viticulture to at least 6,000 BC, when people of South Caucasus found that wild grape juice turned into wine when it is buried through the winter in a shallow pit. From 4,000 BC Georgians were cultivating grapes and burying clay vessels to make wine.
China is Georgia's seventh biggest wine importer, bringing in 583,000 bottles in 2011. Sales of Georgian wine has grown so rapidly in China that it is now considered a major target market.
Our group of journalists and beverage-industry professionals see wines being made here with both modern and traditional methods. Some of the wineries and wine cellars we visit have been rebuilt in the past 10 years, as demand and promotion of these vintages have grown.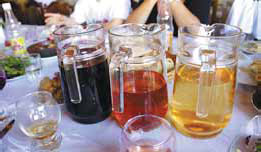 Georgia is famous for a traditional wine made in a
qvevri
, a clay jar buried in the ground, covered with a stone lid.
In the beginning, the juice produced by crushed grapes in the underground
qvevri
tastes very much like condensed grape juice. But after the fermentation process, it becomes a natural but powerful wine, with an enticing golden color.
Meanwhile, modern wineries in Georgia have mastered advanced modern-day winemaking technology, and can produce wines up to the standards of Europe.
Chateau Mukhrani, for example, was rebuilt in 2002, and has been producing new grapes since 2007.
Founder Ivane Mukhranbatoni, a 19th-century Georgian prince, made the first bottle of sparkling wine with Georgian grapes.
The chateau in the village of Saguramo in Mtskheta has been going through a major construction to restore the prince's castle. The work includes adding an underground cellar and a theater, enhancing what will be a new wine resort for tourists.
Schuchmann Winery, a German company, makes 70 percent of its wines with contemporary European methods, and 30 percent in traditional
qvevri
.
The winery produces light-bodied, easy-drinking European white and red wines that taste fresh and fruity. When it comes to the traditional method, grapes are fermented for six months in the
qvevri
, and then stored in oak for up to one year, to produce a pure, concentrated flavor.
Saperavi is the most common black grape in Georgia, while a favorite white-wine grape is Mtsvane. The country has 500 grape varieties; more than 40 are used to produce wine.
At Pheasant's Tears, a winery built in a 300-year-old house in the town of Sighnaghi, we taste some really good wines: Chinuri Twilight, a white wine; Rkatsiteli, a smoky amber wine tasting of honey and roses; and Shavkapito, a full-bodied red wine made with late-harvested grape.
Established in 1962 and privatized in 1992, Tblivino produces the largest number of wines in Georgia. The company exports to 28 countries, including China. In 2011, it produced 2.5 million bottles of wine, 20 percent of which was exported to China. We were surprised to find our guide at Tblivino speaking fluent Chinese.
JSC Sarajishvill is the first distillery to brew brandy with traditional technology in Georgia. Its history dates back to 1884. The company's brandy won gold medals at international expos in Paris and Brussels. Today, people can still taste 100-year-old brandy in the company's cellar.
The food of Georgia is simple, natural and delicious. One place to recommend is Kopala restaurant, which offers a good view and good food.
We sample very tasty grilled pork, lamb, braised chicken and braised mushrooms.
Pkhali
is a wonderful mixture of mashed spinach, red pepper, carrot and walnut.
Chinese people would be surprised to find
khinkali
, looking exactly like
baozi
with pork stuffing, and almost as delicious. But in fact, it is a traditional Georgian dish.
It is interesting for me to meet Shota Bitadze, owner of a Chinese teashop in the pedestrian street of Tbilisi.
Although he doesn't speak much Chinese, we learn he studied tea-making in Fujian, and uses Chinese teas grown in Georgia. Georgia imported and grew Chinese tea as early as 1847. That's why in hotels and restaurants here, you can find both black tea and green tea.
At Pheasant's Tears, we watch an impressive folk singing demonstration, revealing how Georgian young people show their love. At another local restaurant, we see a breathtaking knife dance.
The revival of wine traditions breathes new life into other aspects of Georgian culture.
Luarsab Togonidze, our
tamada
, i.e., toastmaster, at the restaurant Azarphesha, shows us how he is adapting traditional Georgian clothes for men and women into beautiful modern fashions.
Toasting is a tradition in Georgia, and Togonidze raises his glass with poetic language, to friendship, parents, peace, women and children.
More than 80 percent of Georgia's population identify themselves as Orthodox Christians. When we visit Svetitskhoveli Cathedral of Twelve Apostles, we savor the beauty and devotion in the collected voices of the men's choir.
Our hotel rooms in Tbilisi overlook a giant statue of the "Mother of Georgia" on a mountain in the center of the city. The statue raises a wine cup in her left hand, and a sword in her right. The country would drink with its friends, but it is also ready to fight its enemies. That kind of bravery and friendship is the national spirit of Georgia.
Source